(Jump to Whole30 Meals Directory)
Do you want to give your body a much-needed break from processed foods (even the better-for-you ones!) and get back to eating the way Mother Nature intended?
Then a Whole30 nutritional reset may be in order.
All too often, we rely on packaged foods - even packaged foods that are made with good ingredients - that may be preventing us from enjoying optimum health.
Whole30: A Reset with Real Food
With a Whole30 meal plan, you'll get back to the basics.
Not only will you eliminate the food groups most often responsible for blood sugar imbalances, gut issues and inflammation, but you'll also help to discover the foods that might not agree with you… all while developing a healthier relationship with food.
On the Whole30, you'll avoid:
Sugar - in any form. This includes honey, coconut sugar, maple syrup, as well as natural sweeteners like stevia and xylitol.
Alcohol - not even for cooking.
Legumes - no beans, lentils, peanuts or soy (including soy lecithin)
Grains and pseudograins – no wheat, rice, barley, amaranth, quinoa, etc.
Dairy - no cow, goat, sheep's products (cheese, yogurt, ice cream). Ghee is allowed.
Additives - no sulfites, MSG or carageenan
Baked goods and treats made with approved ingredients - even if they are made with approved ingredients. (For example, no pancakes, breads, or cupcakes make with Paleo "flours" or date-sweetened treats)
You won't be counting calories or weighing yourself. The only goal of this 30 day plan is to Eat. Real. Food!
Whole 30 Meals: Fresh, Simple & Nourishing
And despite their simplicity, these can be some of the most delicious meals you'll ever enjoy.
From Deconstructed Fish Tacos bursting with flavor and nutrients… to mouthwatering Kalua Pork with Braised Cabbage and Avocado… or Cuban Picadillo with Cauliflower Rice and Kale – you'll never be bored (or hungry!) with the 500 delicious Whole30 recipes and meals we have here at Meal Genius.
Craving something sweet? Try Organic Berries and Fresh Whipped Coconut Cream or Chia Superberry Pudding.
Your Personalized Whole30 Meal Plan: The Whole30 Tailored to Your Needs
Best of all, when you sign up, you can create a personalized Whole30 meal plan to suit your unique needs. You can eliminate allergens and offending foods, modify your macronutrient ratio to try a Keto Whole30 or a Low Carb Whole30, scale your meal plan to suit your family's needs, cook ahead and plan for leftovers, add Whole30 desserts, choose to intermittent fast… and so much more.
Here's a sample of what you can expect on your Whole30 Meal Plan…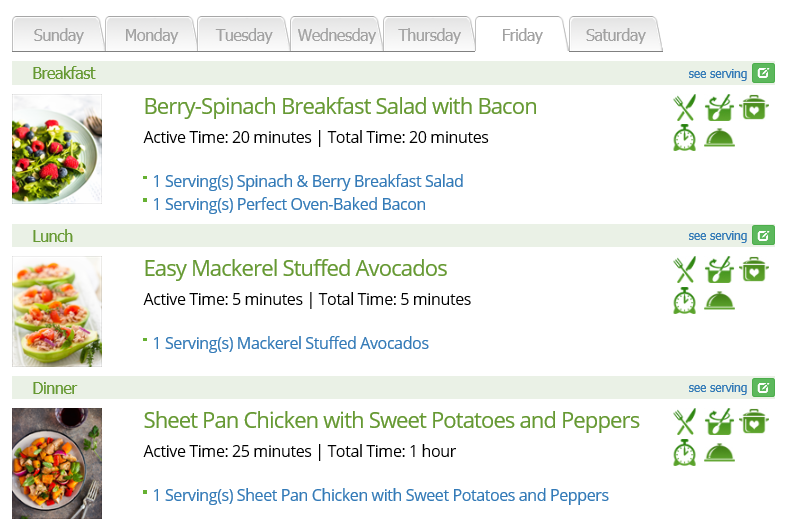 Since our Whole30 meal plan comes with a 100% satisfaction guarantee, you have nothing to lose when you sign up.
Meal Genius Whole30 Meals Directory